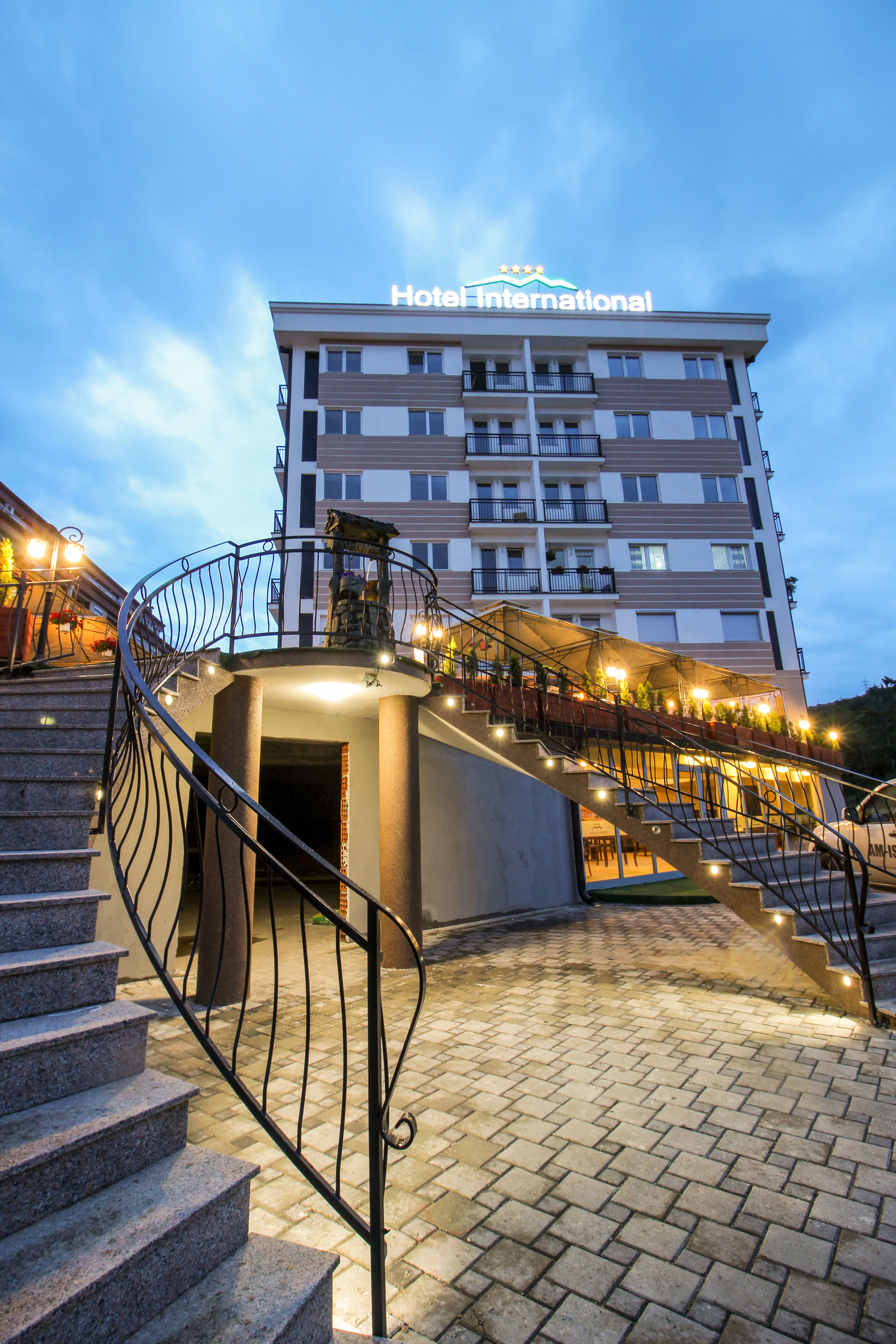 Welcome to Hotel International. A Hotel that captivates with its freshness, young spirit, clear and clean lines with interior full of warm atmosphere that takes you on a journey around the world.
Where are we? In Ohrid, Macedonia. Under the slopes of the Petrino and Galichica mountains, close to the famous Biljana springs, right on the exit of the great "Turistichka" Boulevard which leads to the most beautiful beaches on the Ohird Lake's east coast. From our location, you would only need 5 minutes to get to the lake and 15 minutes to arrive in the city center by foot.
We have 35 stylish rooms, of which 28 are double-bed (standard), 2 are four-beds and 5 are apartments. All have air conditioning, internet and TV. And we work on the bed & breakfast principle, meaning that it is great to wake up early and catch the city's morning rhythm with a nice coffee and a delicious meal.
The hotel has its own parking, a lovely terrace with a bar, congress hall for up to 60 people, spa center (Finnish bath, Turkish bath, Jacuzzi) and a massage service upon request. For these and any additional services (the sights of city, rent-a-car, rent-abike or other) offered by the hotel or other providers, you can get more information on our reception desk that operates 24 hours, 7 days a week, 365 days a year.
Ohrid
Macedonia, deep in the heart of the Balkan Peninsula, is a small country with extraordinary beauty. This is probably one of the least visited and least known countries in Europe, which in a way makes it even more mysterious and attractive. And without any doubt, its most precious jewels – shining one next to the each other – are the City of Ohrid and the Lake Ohrid.
In 1979, the Committee of UNESCO decided to inscribe the Lake Ohrid on the World Heritage List of outstanding universal values. In 1980, this protected area was extended to include the cultural and historical area of the City of Ohrid. It offers countless points of interest to tourists who want to travel to the Balkans and explore Macedonia. It is a place that will stay in your heart forever, and Hotel International is a truly nice choice to experience the mystery and beauty of Ohrid.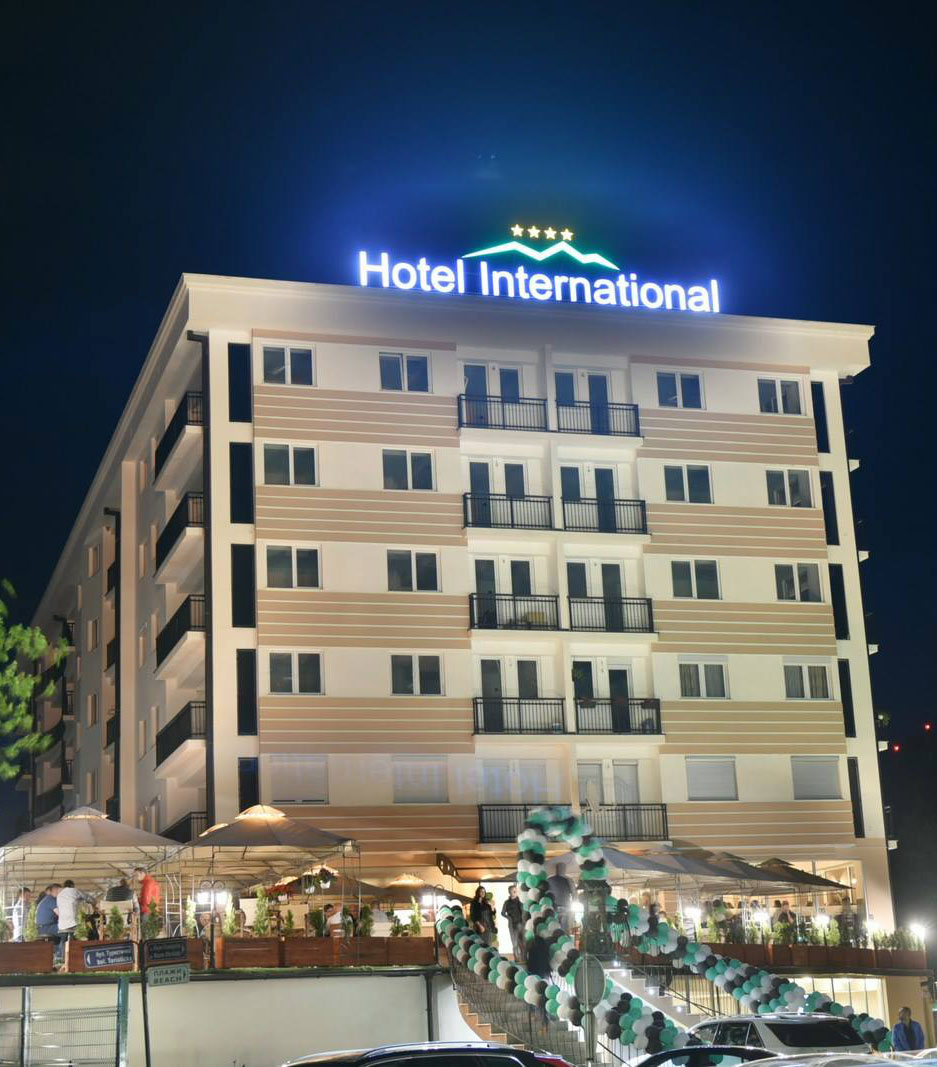 Rooms
28 stylishly decorated double-bed rooms (standard)
2 four-bed rooms
5 comfortable and stylishly decorated apartments
All have air conditioning, internet and TV.
Inhouse Restaurant
We work on the bed & breakfast principle, meaning that it is great to wake up early and catch the city's morning rhythm with a nice coffee and a delicious meal. Our Restaurant is only available to the guests staying in our hotel. Every morning, freshly prepared and varied food, water, juices, coffee and other drinks are served here. Our restaurant is capable of complementing needs for subtle, exquisite flavors and offers the best of local specialties and international cuisine.
Coffee Bar
Our Coffee Bar has a beautiful terrace. Period. Here you can enjoy your favorite drink or simply relax in your free time, browsing your favorite social media or newspapers.
Conference Hall
For the business part, we have a Conference Hall, a place for organizing congresses, seminars, workshops, team-building meetings. The capacity is for about 60 people, for which the hotel's complete services are available.
Spa Center
You can spend part of your free time enjoying the benefits of our Spa center. A Finnish part, a Steam part, Jacuzzi part and a Relaxation part, together with a Massage part (upon request) that takes care of your health and maintaining good physical condition.
We offer different rooms for every taste. They all have air-conditioning, internet, an TV. With each room you get free 24/7 parking. Make sure you get your accommodation through our booking system or contact us trough any of the contact forms available on our website.


"This hotel is the best place to stay in Ohrid, as it is one minute walk from the epic place "Biljanini Izvori"
Jeetu

"Fabulous food & flawless service"
"Nice and tasty food… 5 Star"
Blaze

"Another successful experience"
"Ohrid is nice place… that was awesome experience… too many ancient places, oldest and deepest lake in Europe… there are no words to explain you must visit that place"
Mathilda

"Nice Hotel, Nice People, Nice Food, Nice City, NICE NICE NICE…"
Joseph Heino

If you have any question feel free to contact us.